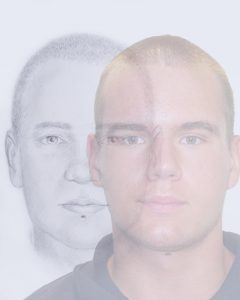 A facial composite is an image created by an artist or a composite system operator based on a crime witness's/victim's description of an offender. The main aim is to achieve a resemblance to the subject being described from memory. Memory can be fallible and some detail of the face may be incorrectly recalled, therefore the composite is never a perfect portrait. It does not need to be a perfected work of art either, however it should be anatomically correct and of a decent quality. An integral part of creating a composite is an investigative interview called the Cognitive Interview. The cognitive interview sets a guideline for a successful interaction between the interviewer and the interviewee, but since every case and interview is different, there is no strict script to follow. The main concern is to let the witness describe the subject at his or her own pace, with the artist providing simple, unbiased prompts.
Interviewing an individual who holds a mental image of a person needing identification is a challenge. People's memory and verbal abilities vary considerably, which is one of the reasons why the accuracy of composites is also variable. The arrest of a suspect cannot therefore be made from a facial composite alone. It can however aid police investigations by providing a lead to the identity of a suspect.
The facial composite can be a hand drawn sketch (traditional or digital) or a computerised image (e.g. E-FIT or EvoFIT). I am experienced in both methods.
Research projects
My MSc Forensic Art research project, during summer 2010, aimed to discover whether it was feasible to conduct a cognitive interview via the internet, using a live web camera, to create a facial composite. The participants viewed an image of an unknown individual for one minute, without knowing the study's purpose at this stage. They returned to be interviewed 24 hours later. I was blind to these target images of course at this stage. The primary aim was to find out about the experienced interaction via surveys and my own analysis. The participant survey results were encouraging and indicated that interaction for this purpose was effective in laboratory settings.
Here are a few examples from the study. The subject images are courtesy of the City of Sydney.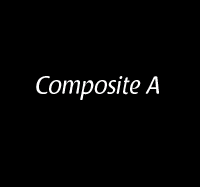 Remote interviewing vs face to face interviewing
I wanted to compare interviewing via Skype to face-to-face interviews, therefore conducted more research at the University of Surrey. The participants (42) were mainly undergraduate students and were aware of the full task before viewing a still image of an unknown person for one minute. The participants returned to be interviewed the next day. According to a likeness rating and a sorting task, the composites from the face-to-face interviews were seen to be better. The difference was not big in practical terms, however enough to be statistically significant. More research on this topic is required. A composite naming task, in which participants attempt to recognise the identity of the composites, is more in line with a real case scenario and should be included in the composite evaluation in future studies. For this to be possible, the target identities should be from a well-known pool of people which they weren't in the Skype studies.
Publication:
Kuivaniemi-Smith, H. J., Nash, R. A., Brodie, E. R., Mahoney, G., & Rynn, C. (2014). Producing facial composite sketches in remote Cognitive Interviews: A preliminary investigation. Psychology, Crime & Law, 20, 389-406. http://www.tandfonline.com/doi/abs/10.1080/1068316X.2013.793339#%2EUbndSZghz79
See some composites from the study by clicking on the images to the right hand side. Subject images are from this source:
Minear, M. & Park, D.C.(2004). A lifespan database of adult facial stimuli. Behavior Research Methods, Instruments, & Computers. 36, 630-633.
Further research
I am currently working on part-time research studies and investigating the effectiveness of sketch facial composites and the potential combination of sketch and computerised composites.
Publications:
Fodarella, C., Kuivaniemi-Smith, H., Gawrylowicz, J., & Frowd, C. D. (2015). Forensic procedures for facial-composite construction. Journal of Forensic Practice, 17(4), 259 – 270.
Kuivaniemi-Smith, H. (2013). Facial Composites- Important Intelligence. Journal of The Association of British Investigators, 23-24.
http://www.theabi.org.uk/images/ABI_Journals/summ2013.pdf
Conferences/Seminars/Presentations:
2016, 2017 & 2018 –The University of Dundee, Dundee.
Facial Composite workshops for MSc Forensic Art students.
November 2017 – Oral presentation at the Facial composite workshop/seminar, Manchester.
September 2016 – Oral presentation at the British Psychological Society Cognitive Conference, Barcelona.
September 2015 – Oral presentation at The British Psychological Society Cognitive Conference, Canterbury.
January 2013 – Facial Composite Workshop, Leeds University, Leeds.
October 2012 - Witness interviewing course by The Greater Manchester Police (attended two days), Manchester.
Presentation on the Cognitive Interview and creating a Facial Composite via Skype.
May 2012 - National Face Identification Seminar, London.
June 2011 - International Investigative Interviewing Research Group Annual Conference, Dundee.
Poster presentation on the Cognitive Interview and creating a Facial Composite via Skype.
September 2010 - Scottish Institute for Policing Research, Dundee.
Poster presentation on the Cognitive Interview and creating Facial Composites via Skype.
Skype interview composites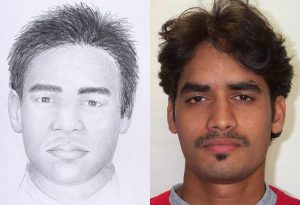 Face-to-face interview composites